FOR IMMEDIATE RELEASE
June 30, 2015
MEDIA CONTACT
Candice N. Mackel
PR Director for Neo Age Showcase
Candice Nicole Public Relations
candice@candicenicolepr.com
The Howard Theatre & Neo Elite Present The Neo Age Showcase in Washington, DC
The Next Generation of Soul and R&B
Washington, DC (June 30, 2015)- It's Summertime in the Nation's Capital and a new music experience is about to be bestowed upon this great city! In partnership with The Howard Theatre, Neo Elite is proud to present The Neo Age Showcase: The Next Generation of Soul and R&B. The debut of the bi monthly show will take place July 23, 2015 with doors opening at 7 PM. The line up decision was made by deciding on the following:
One Rising Artist with buzz from the DMV Community

One Rising Artists with Talent from the House Studios AGP Program

One Rising Artist with Buzz and Legitimate Established Fanbase from outside the DMV:

One Rising Artist that has built a Legitimate Following and Fanbase from the DMV
Performing LIVE will be Reesa Renee, Aaron Camper, BOOMscat and ShaMain. Another exciting bonus to The Neo Age Showcase is the "One Minute Mic" competition which will be hosted online and the winners (which will be chosen via Social Media) will perform on The Howard Theatre stage during the show July 23rd and a champion will be crowned. Participants can enter by posting a 15 sec Instagram video of a cover and using the hashtag #OneMinuteMic.
When asked about making Washington, DC the home of the new music experience, creator Zeplyn Xavier states
"
With such a heavy existing music culture in the DMV, it was a great opportunity to partner with one of the most prestigious historic venues (The Howard Theatre), and co-create an experience that can mirror a time when Washington D.C. was a major location for rising Soul and R&B talent to come and perform. We are giving it a modern day twist and adding some flair, but the goal is to really amplify the amazing rising talent we have here and all across the nation
."
The Neo Age Showcase
is also proud to announce their partners
House Studios
,
YouKnowIGotSoul.com
,
TheBobbyPen
,
Gypsy Soul Entertainment
&
SoulBounce.
In addition, a percentage of the total proceeds after every Neo Age
Showcase
show will go to
nonprofit organizations. For the July 23rd showcase experience, the recipients are Critical Exposure, a DC based organization which trains youth to use photography and advocacy to make real change in their schools and communities and DJ | JD Foundation who are committed to molding high school students by utilizing multiple developmental programs and networks to a thorough understanding of both finance, financial markets, and long-term goal setting.
Tickets can be purchased
HERE
and for any media inquiries please contact Candice@CandiceNicolePR.com.
###
____________________________________________________
Follow on Social Media
Official Website
______________________________________________________
About Neo Age Showcase
Neo Age Showcase is a bimonthly experience presenting the Next Generation of local and global Soul and R&B artists.
Co-Created in partnership with The Historic Howard Theatre, hailed by the Washington Post as a venue that "symbolizes hope for D.C. to reclaim depth and soul of its past"; each showcase features four of the best talented and popular artists from the next generation of Soul and R&B music, accompanied by a band, an in show sing off and will be donating a percentage of total ticket sales Each show to non-profits organizations.

Neo Age Showcase will also be live streamed online in order to fulfill the mission of being the driving force that introduces not only the DMV community, but also the nation to the next generation of Soul and R&B artists.
About Candice Nicole Public Relations
Candice Nicole Public Relations is a boutique firm based in the Metropolitan area that was established in 2007. CNPR specializes in Publicity, Marketing, Events, Media Relations, Branding, Social Media Campaigns and more. Throughout the years, CNPR has worked with Spike Lee, OWN TV Network, TI, Big Boi, Howard Hewitt, Wale, Mindless Behavior, RaVaughn, Kevin McCall, Marsha Ambrosius + more! CNPR is a firm that believes in reaching to the sky and bringing out that star in YOU!
______________________________________________________________________
DCLA Productions Presents:
TEYANA TAYLOR
July 9, 2015 | The Fillmore
Hosted by: WPGC's Tony Redz
CNPR is very pleased to announce that we have been hired to handled the Publicity for the Miss Black USA 2015 Pageant! It will take place August 9, 2015 in Washington, DC!
If you're a company interested in Sponsoring the Pageant, please email candice@candicenicolepr.com.
They're currently seeking out talent and below is how to apply.
Dream it and you can achieve it! You may apply to become a contestant in the Miss Black USA Pageant, by winning a state pageant in the state where you live, work or attend school. If there is not a state pageant held there, you may apply directly to the Miss Black USA Pageant as a Delegate-At-Large. If you meet the minimum eligibility requirements below, you may begin the At-Large-Delegate application process here. It's as simple as 1, 2, and 3.
STEP ONE: To Apply Submit a Bio or Resume to

recruiter@missblackusa.org
STEP TWO: Email a Recent Snapshot (This will not be returned and does not need to be a professional photo)
STEP THREE:If you meet the eligibility Criteria, you will be required to pay a $25.00 non-refundable application fee.
You must be at least 17 years of age and not older than 27 years of age by the date of the national competition for which you compete.

You must be a high school graduate or in your senior year of high school.

You must be single; not married.

You must be a natural born female.

You must be a United States citizen and live in the United States.

You must be in excellent physical and mental health.

You may not have competed more than twice in the national Miss Black USA pageant and may not represent the same state more than once.
Employees, officers, directors and agents of Miss Black USA Pageant and/or of any of their respective licensees, assigns, parents, affiliated and subsidiary companies and the immediate family (spouse, mother, father, sister, brother, daughter, son, regardless of where they live) or members of their same households (whether related or not) of such employees, officers, directors and agents are not eligible to be contestants in the MISS BLACK USA PAGEANT or participate in this application process.
Once we receive your At-Large-Delegate Application, snapshot and fee, your application will be reviewed by the Miss Black USA National Recruitment Team and you will be contacted within two weeks by a member of the National Recruitment Team.
Your PRE Memorial Day Workout!
It's Time to SWEAT with Celebrity NIKE Trainer Deanna Jefferson!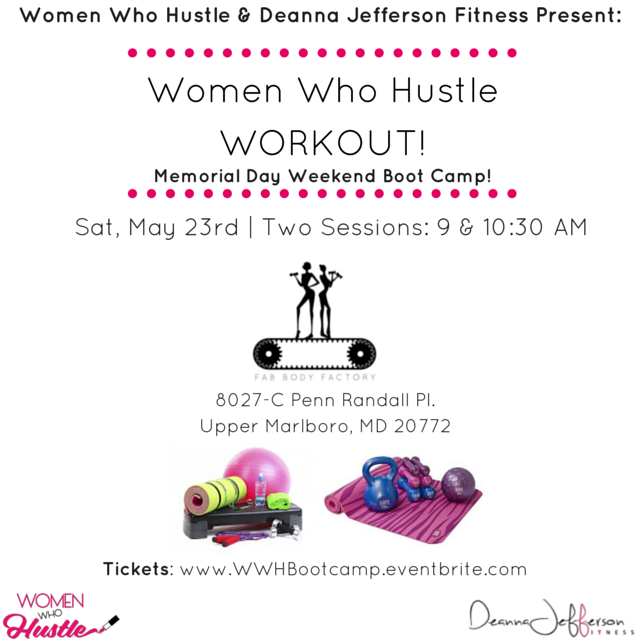 On Sat, May 23rd join Women Who Hustle and Deanna Jefferson Fitness bring you TWO boot camp sessions!
This will be perfect as you will be getting ready to hit those cook outs for the weekend. This will be an hour workout, complete with a healthy snack table and a Q&A With Deanna and Candice Nicole after completion. Perfect for a girls weekend, mother/daughter outting or just getting fit with friends!
*WOMEN ONLY Boot Camp Sessions*
Past Posts

BOSSNetwork