Are You Ready to be Enticed! DC?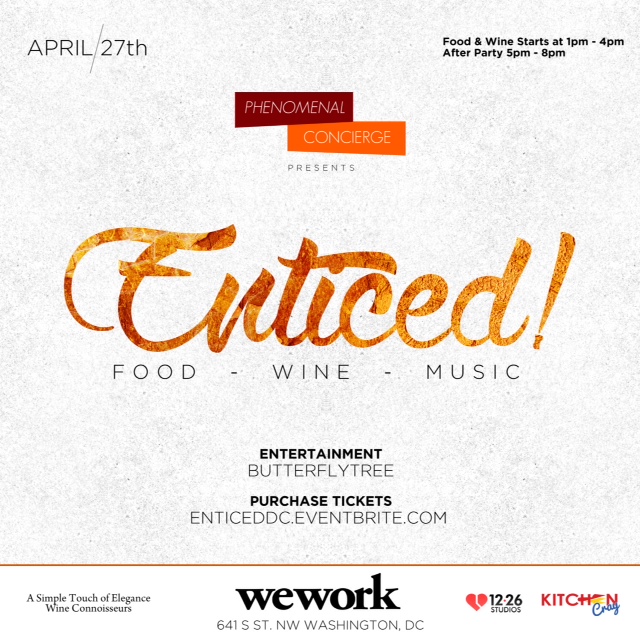 Join Phenomenal

Concierge

Sunday, April 27th!
WeWork- Wonder Bread Factory
Experience Food x Wine x Music in a new space in the Nation's Capital!
Music By: Butterflytree & DJ O's Cool
Drinks By: A Simple Touch of Elegance Wine Connoisseur ft. Red & White Wines
Food Provided By: Kitchen Cray
Chocolates: Mary O'Malley Chocolatier
What is Enticed! DC's Misson?
The purpose of this event series is to re-ignite and elevate the passion, the indulgence of the social experience in the DC Metro area; taking it to a higher level of class and sophistication. With Enticed!, each individual in attendance will be able to explore foods/wines and/or spirits through proper pairings. We believe that this will entice the individual to think out the box or eliminate the box altogether.
This is to inspire a new and diverse perspective to social experiences that we create and partake in. Our goal is not only to create an atmosphere of beautiful ambience, entertainment and conversations to be sure to fill the event with great energy but in addition build the platform of diverse and cultural education and convergence. An opportunity for attendees to network and build relationships on a social and/or professional level.
Official Event Hashtag: #EnticedDC
For Press Inquiries: Candice@CandiceNicolePR.com